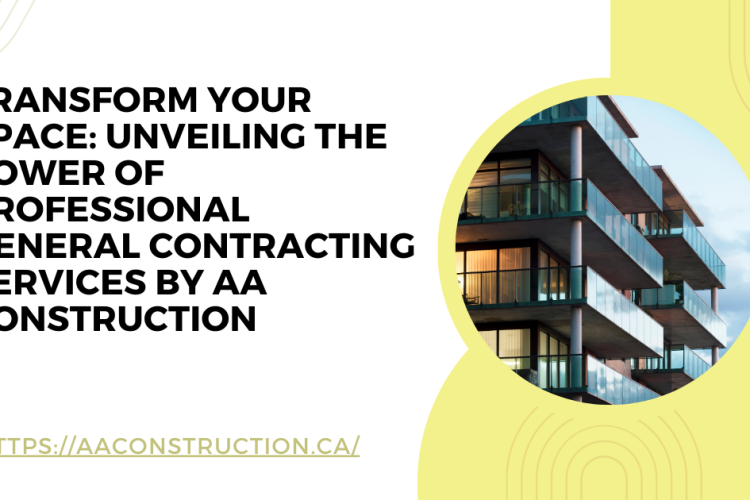 In the realm of home improvement and renovation, the value of professional general contracting services cannot be overstated. When embarking on a journey to transform your living or working space, the expertise and guidance of seasoned professionals can make all the difference. AA Construction, a trusted name in the industry, is here to revolutionize your vision of what's possible. In this blog, we'll delve into the comprehensive world of general contracting services, exploring how AA Construction can turn your dreams into reality.
The Essence of General Contracting Services
General contracting services serve as the backbone of any successful construction or renovation project. They involve overseeing and managing various aspects of a project, including planning, design, execution, and completion. A professional general contractor acts as the conductor of an intricate symphony, ensuring that all components harmonize seamlessly to create a masterpiece.
Project Planning and Design: The initial stages of any project are crucial. AA Construction's team of experts collaborates with clients to understand their vision, needs, and aspirations. With a meticulous eye for detail, they develop a comprehensive plan and design that aligns perfectly with your goals.
Budgeting and Cost Management: One of the most daunting challenges in any project is managing costs. AA Construction employs its wealth of experience to create accurate budgets, ensuring that your project remains financially viable without compromising quality.
Skilled Craftsmanship: The heart of any construction endeavor lies in its execution. AA Construction's team of skilled craftsmen brings years of expertise to the table. Whether it's intricate woodworking, precise masonry, or flawless electrical work, their craftsmanship is a testament to their dedication.
Efficient Project Management: Timelines are of the essence, and AA Construction excels in efficient project management. They orchestrate various subcontractors, suppliers, and tasks, ensuring that the project progresses smoothly and stays on track.
Quality Assurance: The mark of a superior general contractor is an unwavering commitment to quality. AA Construction's attention to detail and commitment to using premium materials guarantee that your project not only meets but exceeds your expectations.
The AA Construction Difference
Experience and Expertise: With a rich history spanning years, AA Construction brings a wealth of experience to the table. Their team consists of professionals who have mastered the art of general contracting through countless successful projects.
Tailored Solutions: No two projects are the same, and AA Construction recognizes this. They take the time to understand your unique requirements, tailoring their services to deliver a solution that perfectly aligns with your vision.
Transparent Communication: Effective communication is the cornerstone of any successful partnership. AA Construction ensures that you are well informed at every step of the journey, providing regular updates and addressing any concerns promptly.
Code Compliance and Permits: Navigating the complex web of building codes and permits can be overwhelming. AA Construction takes the burden off your shoulders, ensuring that all legal requirements are met without a hitch.
Transforming Dreams into Reality: At its core, AA Construction is in the business of turning dreams into reality. Whether you envision a cozy home renovation or a commercial space transformation, their expertise can make your aspirations come to life.
Conclusion
The power of professional general contracting services is undeniable when it comes to reshaping your living or working space. AA Construction's commitment to excellence, craftsmanship, and client satisfaction sets them apart as a beacon of trust in the industry. From project planning to completion, their expertise guides every step of the journey, ensuring that your vision is not only realized but exceeded. If you're ready to embark on a transformational journey, AA Construction is here to pave the way – because your dream space deserves nothing less than the very best.